A Collaboration of all the week's memes I've missed in my absence.
I'm going to apologize in advance for the extreme longness of this post.
...............................................................................................
In My Mailbox*
Not a lot of books this time around**, even with my absense, but thats okay because I had to go through some extreme re-adjusting to school.
#1:
#2:
In Picture #1: All books are from local library. Bookmark was in a book won from Bree Despain. (see next set of books)
Skinned

by Robin Wasserman
Lia Kahn was perfect: rich, beautiful, popular -- until the accident that nearly killed her. Now she has been downloaded into a new body that only looks human. Lia will never feel pain again, she will never age, and she can't ever truly die. But she is also rejected by her friends, betrayed by her boyfriend, and alienated from her old life.
Forced to the fringes of society, Lia joins others like her. But they are looked at as freaks. They are hated...and feared. They are everything but human, and according to most people, this is the ultimate crime -- for which they must pay the ultimate price.
As You Wish

by Jackson Pearce
Ever since Viola's boyfriend broke up with her, she has spent her days silently wishing—to have someone love her again and, more importantly, to belong again—until one day she inadvertently summons a young genie out of his world and into her own. He will remain until she makes three wishes.
Jinn is anxious to return home, but Viola is terrified of wishing, afraid she will not wish for the right thing, the thing that will make her truly happy. As the two spend time together, the lines between master and servant begin to blur, and soon Jinn can't deny that he's falling for Viola. But it's only after Viola makes her first wish that she realizes she's in love with Jinn as well . . . and that if she wishes twice more, he will disappear from her life—and her world—forever.
Jackson Pearce spins a magical tale about star-crossed lovers, what it means to belong . . . and how important it is to be careful what you wish for.
Rampant

by
Diana Peterfreund
Forget everything you ever knew about unicorns...
The sparkly, innocent creatures of lore are a myth. Real unicorns are venomous, man-eating monsters with huge fangs and razor-sharp horns. And they can only be killed by virgin descendants of Alexander the Great.
Fortunately, unicorns have been extinct for a hundred and fifty years.
Or not.
Astrid Llewelyn has always scoffed at her eccentric mother's stories about killer unicorns. But when one of the monsters attacks her boyfriend in the woods — thereby ruining any chance of him taking her to prom — Astrid learns that unicorns are real and dangerous, and she has a family legacy to uphold. Her mother packs her off to Rome to train as a unicorn hunter at the ancient cloisters the hunters have used for centuries.
However, at the cloisters, all is not what it seems. Outside, the unicorns wait to attack. And within, Astrid faces other, unexpected threats: from crumbling, bone-covered walls that vibrate with a terrible power to the hidden agendas of her fellow hunters to — perhaps most dangerously of all — her growing attraction to a handsome art student... and a relationship that could jeopardize everything.

In Picture #2: The next set of books is from contests I was lucky enough to win. And some other goodies...
Candor
by Pam Bachorz

Oscar Banks has everything under control. In a town where his father brainwashes everyone, he's found a way to secretly fight the subliminal Messages. He's got them all fooled: Oscar's the top student and the best-behaved teen in town. Nobody knows he's made his own Messages to deprogram his brain. Oscar has even found a way to get rich. For a hefty price, he helps new kids escape Candor, Florida before they're transformed into cookie-cutter teens. But then Nia Silva moves to Candor, and Oscar's carefully-controlled world crumbles.
Won from:
The Book Butterfly
Thanks Kim!
(The cover sheet on top is a print out Kim attatched to the ARC, so cute.)/(Along with the ARC, Kim also got Pam Bachorz, the author, to send a signed bookcard. Pam also included a cute little note that relates to her book.)
King Dork
by Frank Portman
Tom Henderson (a.k.a. King Dork, Chi-mo, Hender-fag, and Sheepie) is a typical American high school loser until he discovers the book, The Catcher in the Rye, that will change the world as he knows it. When Tom discovers his deceased father's copy of the Salinger classic, he finds himself in the middle of several interlocking conspiracies and at least half a dozen mysteries involving dead people, naked people, fake people, ESP, blood, a secret code, guitars, monks, witchcraft, the Bible, girls, the Crusades, a devil head, and rock and roll. And it all looks like it's just the tip of a very odd iceberg of clues that may very well unravel the puzzle of his father's death and–oddly–reveal the secret to attracting semihot girls. Being in a band could possibly be the secret to the girl thing–but good luck finding a drummer who can count to four.

Won from:
Bree Despain
Thanks Bree!
(Bree also slipped in a signed bookmark for her upcoming release "The Dark Devine", see Picture #1)
Ash

by Malinda Lo
Cinderella retold
In the wake of her father's death, Ash is left at the mercy of her cruel stepmother. Consumed with grief, her only joy comes by the light of the dying hearth fire, rereading the fairy tales her mother once told her. In her dreams, someday the fairies will steal her away, as they are said to do. When she meets the dark and dangerous fairy Sidhean, she believes that her wish may be granted.
The day that Ash meets Kaisa, the King's Huntress, her heart begins to change. Instead of chasing fairies, Ash learns to hunt with Kaisa. Though their friendship is as delicate as a new bloom, it reawakens Ash's capacity for love-and her desire to live. But Sidhean has already claimed Ash for his own, and she must make a choice between fairy tale dreams and true love.
Entrancing, empowering, and romantic, Ash is about the connection between life and love, and solitude and death, where transformation can come from even the deepest grief.
Won from:
Meghan's Book Blog
Thanks Meghan!
Another Faust

by Daniel & Dina Nayeri
One night, in cities all across Europe, five children vanish - only to appear, years later, at an exclusive New York party with a strange andelegant governess. Rumor and mystery follow the Faust teenagers to the city's most prestigious high school, where they soar to suspicious heights with the help of their benefactor's extraordinary "gifts."
But as the students claw their way up - reading minds, erasing scenes, stopping time, stealing power, seducing with artificial beauty - the side-effects of their own addictions. And as they make further deals with the devil, they uncover secrets more shocking than their mostunforgivable sins.
At once chilling and wickedly satirical, this contemporary reimagining of the Faustian bargain is a compelling tale of ambition, consequences, and ultimate redemption.

Won from:
Fantastic Book Review
Thanks Tina!

You Are So Undead To Me

by Stacey Jay
Fifteen-year-old Megan Berry is a Zombie Settler by birth, which means she's part-time shrink to a bunch of dead people with a whole lot of issues.
All Megan wants is to be normal—and go to homecoming, of course. Unfortunately, it's a little difficult when your dates keep getting interrupted by a bunch of slobbering Undead.
Things are about to get even more complicated for Megan. Someone in school is using black magic to turn average, angsty Undead into flesh-eating Zombies, and it's looking like homecoming will turn out to be a very different kind of party—the bloody kind.
Megan must stop the Zombie apocalypse descending on Carol, Arkansas. Her life—and more importantly, homecoming—depends on it.
The Forest of Hands and Teeth
by Carrie Ryan

In Mary's world there are simple truths. The Sisterhood always knows best. The Guardians will protect and serve. The Unconsecrated will never relent. And you must always mind the fence that surrounds the village; the fence that protects the village from the Forest of Hands and Teeth.
But, slowly, Mary's truths are failing her. She's learning things she never wanted to know about the Sisterhood and its secrets, and the Guardians and their power, and about the Unconsecrated and their relentlessness. When the fence is breached and her world is thrown into chaos, she must choose between her village and her future - between the one she loves and the one who loves her. And she must face the truth about the Forest of Hands and Teeth. Could there be life outside a world surrounded in so much death

Won from:
The Epic Rat
(from Zombie Grab) Thanks Cecilia!
Also, thanks to Jordan from

Inside The Mind

for the Give Up the Ghost bookmark.
And she added a sticky note message which I have shown because anything written on a sticky note becomes 10 times cooler.
* In My Mailbox is the creation of Kristi from The Story Siren
** Got more books after took pictures, they'll be included next time. Don't have the energy to completely reconatruct post to add new pictures. Sorry!
...............................................................................................
Teaser Tuesday
This week I have two books to tease. And I felt the need to tease you with Willow twice.



Willow by Julia Hoban
" 'Seriously, I mean he needed to get out of the ivory tower and into the real world once in a while. I distinctly got the feeling he hadn't done too many Jello-O shots in his time!'
'Absolutely right.' "

-Page 98
"Willow takes a few steps forward and is immediately assaulted by the smells, crush of people, the sheer energy of the place. But its okay, she can handle it now."
-Page 150

Catching Fire by Suzanne Collins

"If it were up to me, I would try to forget the Hunger Games entirely. Never speak of them. Pretend they were nothing but a bad dream."

-Page 3


-->I didn't want to spoil anything! :) <--
Teaser Tuesday is brought to us by MizB from Should be Reading.
Rules:1) Grab your current read
2) Open to a random page

3) Share two (2) "teaser" sentences from somewhere on that page

4) BE CAREFUL NOT TO INCLUDE SPOILERS! (make sure that what you share doesn't give too much away! You don't want to ruin the book for others!)

5) Share the title & author, too, so that other TT participants can add the book to their TBR Lists if they like your teasers!

...............................................................................................
Waiting on Wednesday*
All the books look amazing! I can't wait to read them. 2010 is too long to wait for all the amazing releases.
Shadow Hills

by Anastasia Hopcus
Since her sister's mysterious death, Persephone "Phe" Archer has been plagued by a series of disturbing dreams. Determined to find out what happened to her sister, Phe enrolls at Devenish Prep in Shadow Hills, Massachusetts—the subject of her sister's final diary entry.
After stepping on campus, Phe immediately realizes that there's something different about this place—an unexplained epidemic that decimated the town in the 1700s, an ancient and creepy cemetery, and gorgeous boy Zach—and somehow she's connected to it all.
But the more questions she asks and the deeper she digs, the more entangled Phe becomes in the haunting past of Shadow Hills. Finding what links her to this town…might cost her her life.
--->Shadow Hills will be released on a now undetermined date of 2010, but you can be sure I'll pick a copy when it is released! Edit: Summer 2010 from Egmont!

The Beautiful Between

by Alyssa B. Sheinmel

If high school were a fairy-tale kingdom, Connelly Sternin would be Rapunzel, locked not in a tower by a wicked witch but in a high-rise apartment building by the SATs and college applications—and by the secrets she keeps. Connelly's few friends think that her parents are divorced—but they're not. Connelly's father died when she was two, and she doesn't know how.
If Connelly is the Rapunzel of her school, Jeremy Cole is the crown prince, son of a great and rich New York City family. So when he sits down next to her at lunch one day, Connelly couldn't be more surprised. But Jeremy has a tragic secret of his own, and Connelly is the only one he can turn to for help. Together they form a council of two, helping each other with their homework and sharing secrets. As the pair's friendship grows, Connelly learns that it's the truth, not the secrets, that one must guard and protect. And that between friends, the truth, however harsh, is also beautiful.
This lovely and memorable debut by Alyssa B. Sheinmel contains many of the hallmark themes found in young adult literature—friendship, coming of age, finding a place to belong, and overcoming the death of a loved one. Emotionally moving from start to finish, The Beautiful Between introduces a strong new voice to the genre, a voice with a long future ahead of it.
--->The Beautiful Between will be released on

May 11, 2010

.
*Waiting on Wednesday is brought to us by Jill from

Breaking the Spine
................................................

Waiting on...January 5th!*
Along with my WOW picks, I am also "waiting on" a specific day...January 5th.
Why you may ask am I waiting on this day? Well, take a look of all the wondrous reads released on January 5th (compiled from my

Upcoming Releases

list)...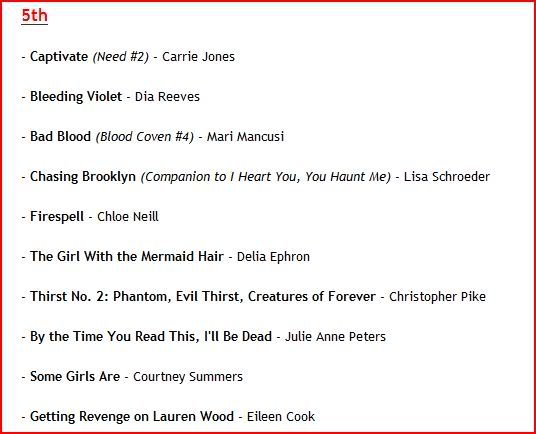 And here are the summaries for each of the books...
(Incase you didn't believe me on the "wondrous releases")
Captivate

by Carrie Jones
Well, there is no summary. Since it is the sequel to

Need

though, I will provide the summary for

Need

...
Now fans of Stephenie Meyer and Melissa Marr have a new author to devour . . .
Zara collects phobias the way other high school girls collect lipsticks. Little wonder, since life's been pretty rough so far. Her father left, her stepfather just died, and her mother's pretty much checked out. Now Zara's living with her grandmother in sleepy, cold Maine so that she stays & safe. Zara doesn't think she's in danger; she thinks her mother can't deal.
Wrong. Turns out that guy she sees everywhere, the one leaving trails of gold glitter, isn't a figment of her imagination. He's a pixie and not the cute, lovable kind with wings. He's the kind who has dreadful, uncontrollable needs. And he's trailing Zara.
With suspense, romance, and paranormal themes, this exciting breakout novel has all the elements to keep teens rapidly turning the pages.
Sixteen-year-old Hanna Järvinen is an unusual girl with a head full of hallucinations, a medicine cabinet full of pills, and a closet full of frilly, violet dresses. Everything a girl needs--except love. But that's what mothers are for, and Hanna is sure she can reconcile with hers, even though she was abandoned as a baby.
Unfortunately, her mother lives in Portero, an odd East Texas town with doors that lead out of the world, flesh-eating creatures, and parasitical spirits--not an ideal environment for winning a mother's love.
Hanna, however, refuses to let a few monsters interfere with her plans. If she has to flirt a little, lie a little, kill a little, or even bleed a little, she'll do it. Hanna can live with monsters and mayhem, but she would rather die than live without love.



Bad Blood by Mari Mancusi

Sunny McDonald is in the ultimate forbidden relationship. Her boyfriend Magnus is a vampire, and the leader of the Blood Coven. Their differences have never been an issue, until now…
When the Blood Coven decides that Magnus needs a mate to be his co-ruler, Sunny's humanity puts her out of the running. The Coven's chosen candidate is Jane Johnson, a magna cum laude graduate of Oxford University who just happens to look like a vampiric celebutante.
Sunny is suspicious of a Rhodes Scholar who can't answer the most basic poly-sci questions, but Magnus brushes it off as petty jealousy. Still, when the Blood Coven goes to Las Vegas for a vampire convention—where Magnus and Jane's bonding ceremony will be the main event—Sunny and her sister Rayne secretly tag along. And Sunny's not going home before she learns the truth about Jane. Because not everything stays in Vegas—especially bad blood…

Chasing Brooklyn
by Lisa Schroeder

Restless souls and empty hearts.
Brooklyn can't sleep. Her boyfriend, Lucca died a year ago, and now their friend Gabe has died of an overdose. Every time she closes her eyes, Gabe's ghost is there, waiting for her. She has no idea what he wants or why it isn't Lucca chasing her through her dreams.
Nico can't stop. He's always running, trying so hard not to feel the pain of missing Lucca. But when he begins receiving messages from his dead brother, telling him to help Brooklyn, emotions come crashing to the surface.
As the nightmares escalate and the messages become relentless, Nico reaches out to Brooklyn. But neither of them can admit that they're being haunted. Until they learn to let each other in, not one soul will be able to rest.

Firespell

by Chloe Neill
As the new girl at the elite St. Sophia's boarding school, Lily Parker thinks her classmates are the most monstrous things she'll have to face…
When Lily's guardians decided to send her away to a fancy boarding school in Chicago, she was shocked. So was St. Sophia's. Lily's ultra-rich brat pack classmates think Lily should be the punchline to every joke, and on top of that, she's hearing strange noises and seeing bizarre things in the shadows of the creepy building.
The only thing keeping her sane is her roommate, Scout, but even Scout's a little weird—she keeps disappearing late at night and won't tell Lily where she's been. But when a prank leaves Lily trapped in the catacombs beneath the school, Lily finds Scout running from a real monster.
Scout's a member of a splinter group of rebel teens with unique magical talents, who've sworn to protect the city against demons, vampires, and Reapers, magic users who've been corrupted by their power. And when Lily finds herself in the line of a firespell, Scout tells her the truth about her secret life, even though Lily has no powers of her own—at least none that she's discovered yet…
The Girl With The Mermaid Hair

by Delia Ephron
(Ahhh, I screwed up. See cover picture

HERE.

)
Sukie Jamieson is obsessed with her appearance. She checks her reflection in windows, spoons, car chrome—anything available. So when her mother gives her a full-length mirror that once belonged to her grandmother, Sukie is thrilled. So thrilled that she doesn't listen to her mother's warning: "This mirror will be your best friend and worst enemy." Because mirrors, as Sukie discovers, show not only the faraway truth but the truth close up. And finding out that close-up truth changes people. Often forever.
Thirst No.2: Phantom, Evil Thirst, Creatures of Forever
by Christopher Pike

Not much of a summary but...
A bind-up of this classic paranormal thriller series from bestselling author Christopher Pike

By The Time You Read This, I'll Be Dead

by Julie Anne Peters

23 Days and Counting
Dear
___mother
___father
___other
There was nothing you could do to stop me because:
___I'd already made up my mind
___I have been suffering my whole life
___ you were too slow to notice
I offed myself because:
___my life sucks
___the world sucks
___ you suck
Good-bye, Daelyn

Some Girls Are

by Courtney Summers

Climbing to the top of the social ladder is hard--falling from it is even harder. Regina Afton used to be a member of the Fearsome Fivesome, an all-girl clique both feared and revered by the students at Hallowell High... until vicious rumors about her and her best friend's boyfriend start going around.
Now Regina's been "frozen out" and her ex-best friends are out for revenge. If Regina was guilty, it would be one thing, but the rumors are far from the terrifying truth and the bullying is getting more intense by the day. She takes solace in the company of Michael Hayden, a misfit with a tragic past who she herself used to bully. Friendship doesn't come easily for these onetime enemies, and as Regina works hard to make amends for her past, she realizes Michael could be more than just a friend... if threats from the Fearsome Foursome don't break them both first.
Tensions grow and the abuse worsens as the final days of senior year march toward an explosive conclusion in this dark new tale from the author of Cracked Up To Be.

Getting Revenge on Lauren Wood

by Eileen Cook
Popularity is the best revenge.
In the final weeks of eighth grade, Lauren Wood made a choice. She betrayed her best friend, Helen, in a manner so publicly humiliating that Helen had to move to a new town just to save face. Ditching Helen was worth it, though, because Lauren started high school as one of the It Girls--and now, at the start of her senior year, she's the cheerleading captain, the quarterback's girlfriend, and the undisputed queen bee. Lauren has everything she's ever wanted, and she has forgotten all about her ex-best friend.
But Helen could never forget Lauren. After three years of obsessing, she's moving back to her old town. She has a new name and a new look, but she hasn't dropped her old grudges. She has a detailed plan to bring down her former BFF by taking away everything that's ever been important to Lauren—starting with her boyfriend.
Watch out, Lauren Wood. Things are about to get bitchy.

*Waiting on...(a certain day) will be a common occurance on
YA All The Way
from now on, but I'm not sure if it will always be on Wednesday though.
...............................................................................................
Friday Finds*
This week, I found a great new series of books called the "Beautiful Dead" series. Not only do they sound really good, they also have they also have the most amazingly striking covers. I have mad love for the covers.

Jonas: Beautiful Dead Book 1
by Eden Maguire

Something strange is happening in Ellerton High. Phoenix is the fourth teenager to die within a year. His street fight stabbing follows the deaths of Jonas, Summer andArizona in equally strange and sudden circumstances. Rumours of ghosts and strange happenings rip through the small community as it comes to terms with shock and loss. Darina,Phoenix's grief-stricken girlfriend, is on the verge. She can't escape her intense heartache, or the impossible apparitions of those that are meant to be dead. And all the while the sound of beating wings echo inside her head ! And then one dayPhoenix appears to Darina. Ecstatic to be reunited, he tells her about the Beautiful Dead. Souls in limbo, they have been chosen to return to the world to set right a wrong linked to their deaths and bring about justice. Beautiful, superhuman and powerful, they are marked by a 'death mark' -- a small tattoo of angel's wings.Phoenix tells her that the sound of invisible wings beating are the millions of souls in limbo, desperate to return to earth.Darina's mission is clear: she must help Jonas, Summer,Arizona, and impossibly, her belovedPhoenix, right the wrong linked to their deaths to set them free from limbo so that they can finally rest in peace. Will love conquer death? And if it does, can Darina set it free?

Arizona: Beautiful Dead Book 2

by Eden Maguire
There's been no sign of the Beautiful Dead for weeks. Darina achingly misses Phoenix all over again. But surely he will return with the rest of the Beautiful Dead as so much still remains unresolved. It's been ten months since Arizona drowned in Hartmann Lake. Suicide, it would seem. But something doesn't add up. Drowning herself in a hidden-away lake does not sound like strong, confident, Arizona: Ellerton High School's high-maintenance drama queen. Darina needs to help Arizona the way she helped Jonas. But time is running out ...

Arizona: Beautiful Dead Book 2 comes out

October 15, 2009

, or this Thursday!
Summer: Beautiful Dead 3
by Eden Maguire
This book currently has no summary released but it is to be released
May 6th, 2010
. It also has my favorite cover of the three.
*Friday Finds is brought to us by MizB from
Should be Reading
................................................................................................
Once again, I apologize for the extreme length of this post.